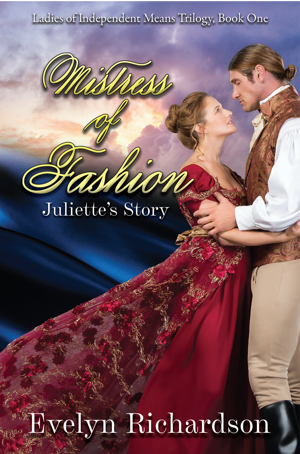 Juliette de Flounoy refuses to be imprisoned by her past-the French Revolution that robbed her family of their heritage, and the rape that left her homeless-comforting herself with her dreams of becoming London's premier modiste and by her friends, the enterprising ladies of Mrs. Gerrard's, London's most exclusive seraglio.
Praise for Mistress of Fashion
After the husband of one of the customers at the dress shop where Juliette de Flournoy works forces himself on her, she is turned out on the street. Luckily, Helen Gerrard, the owner of London's most exclusive brothel, welcomes Juliette into her business and her home. Working for Helen is just a temporary measure for Juliette until she achieves her dream of opening her own dress shop. Then one day Major Lord Adrian Claverton, the brother of one of Juliette's regular clients, walks into Helen's establishment and straight into Juliette's heart. But if Juliette accepts a future with Adrian, does that mean giving up on her dream of a business to call her own? Richardson's (A Lady of Talents, 2005) deft hand with characterization, dry wit, and period details rivals that of the great Georgette Heyer, and readers who fondly remember Richardson's exquisitely crafted traditional Regencies will welcome her back with this splendidly entertaining launch to her Ladies of Independent Means series.
~ Booklist