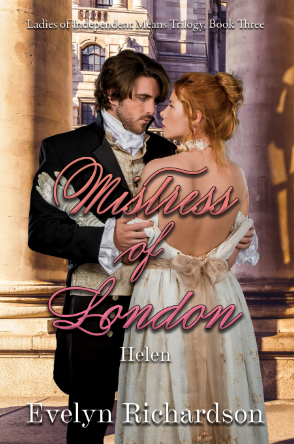 Helen Gerrard had everything a woman could want–money, a successful business, a mansion in London's most exclusive neighborhood–and she was not about to let anyone, let alone a pompous businessman, criticize her establishment, except that what Julian Bracebridge, Earl of Linton had to offer was the one thing she needed.
Praise for Mistress of London
As the owner of London's most exclusive seraglio, a luxurious enclave for sensuous pleasure, Helen Gerrard knows a thing or two about human nature, but Julian Bracebridge, Lord Linton, is a complete puzzle. One minute, Julian is all high-handed and morally superior as he takes Helen to task about her business. The next minute, he is demonstrating a surprising sense of empathy as he shares his legal expertise with an abused wife who has sought sanctuary with Helen. So, which Julian is the real one, and why does Helen find them both to be so irresistible? Effectively employing her considerable knowledge of the Regency era, Richardson (Mistress of Music, 2022) adds another superbly crafted addition to her Ladies of Independent Means series. Richardson's flair for illuminating the less-explored corners of Jane Austen's world makes her books literary catnip for historical romance readers looking for something a bit different.
~ Booklist