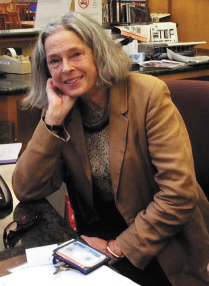 About Evelyn
Evelyn Richardson holds a bachelor's and a master's degree in eighteenth century English literature in addition to a master's degree in library science. For over thirty years she has been a reference librarian and library administrator in a busy public library in suburban Boston. She indulges her passion for eighteenth/nineteenth century literature by writing Regency romances and membership in the American Society for Eighteenth Century Studies.
For the past 35 years she has reviewed historical fiction for Library Journal which introduced her to some of the genre's finest writers: Diana Gabaldon, Rose Tremain, Stella Tillylard, and Charles Palliser. Her review of Palliser's The Quincunx was published in Gale's Contemporary Literary Criticism.
Richardson has been featured in several articles in library periodicals and appears regularly in readers' advisory reference books.
Richardson sold her first novel on her own to Penguin's Signet Regency line in 1989 and wrote a book a year for them until the line closed in 2006 when her first two Regencies were re-issued in a single package. Richardson's regencies were also published in Italy, Portugal, Hungary and Germany. Fans from as far away as Europe, Australia, and New Zealand have shown up at her signings at the Romantic Times and RWA conferences.
At the request of e-publisher, Belgrave House, Richardson got her rights back to release digital versions of her books which continue to sell on Amazon, Barnes and Noble, Overdrive, Apple, and Kobo as well as Belgrave's Regency Reads site, with sales averaging over 100 copies a month. In addition, both paper and electronic copies of her books circulate widely in libraries in the Boston area Minuteman Library Network and are well represented in libraries and library networks throughout the United States.
View my podcast interview on YouTube that my friend (fellow librarian and book reviewer) John Charles did for Poisoned Pen Bookstore in AZ.